Short Distance Movers

in Los Angeles
Your stress-free move starts with a free quote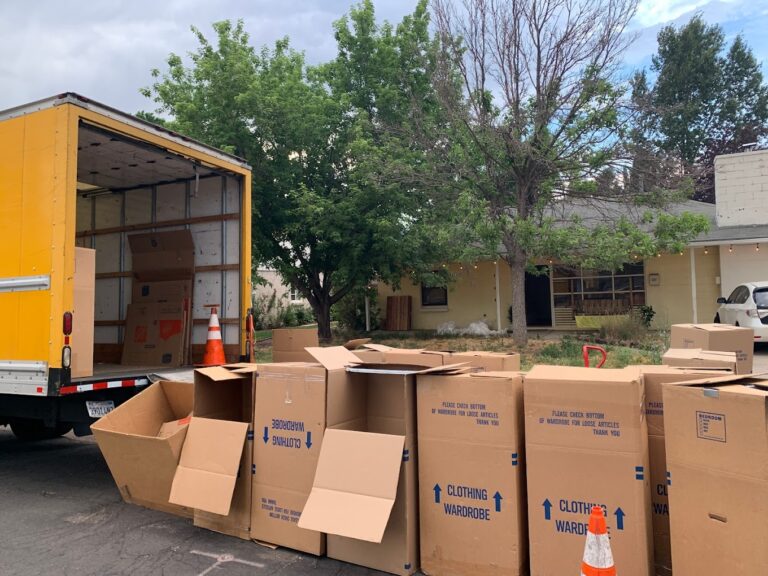 Stress-free short-distance moving in Los Angeles
---
When the journey is short, but the load is heavy, you need the best short distance movers near you. At Affordable Moving Company, we're not just movers, we're your neighbors. As locals, we understand the unique challenges of moving within Los Angeles, CA. Each street, each neighborhood has its characteristics, and we're adept at handling them all. We're more than a service, we're a part of your community. Our team is always ready, just around the corner, prepared to offer an efficient, empathetic, and reliable moving experience.
What is a Short Distance Move?
A short distance move, also known as a local move, typically refers to a relocation within a 50-mile radius. This could mean moving within the same city, neighborhood, or even building. While it may seem simple, a short distance move requires the same meticulous planning, packing, loading, and unloading as a long-distance one. The main difference? Your belongings won't have to endure a lengthy travel time, reducing the risk of damage.
Benefits of Hiring a Professional Moving Company for Short Distance Moves
Hiring professional short distance moving companies near you can transform a stressful experience into a seamless transition. Here's why:
Efficiency: Professional movers are skilled in packing and transporting belongings swiftly and safely.
Reliability: Unlike well-meaning friends and family, a professional moving company is contractually obliged to show up and perform the job.
Safety: Professional movers have the right equipment and expertise to handle heavy and delicate items, minimizing the risk of injury and damage.
Insurance: Should anything go wrong, professional movers are insured, providing a safety net for your valuables.
Cost-Effective: While there is an upfront cost, hiring professionals can save you from costly mistakes, property damage, or personal injury.
Risks Associated with DIY Moves
While it might be tempting to turn your move into a DIY project, it's important to understand the potential pitfalls:
Injury: Without proper training or equipment, you could sustain injuries while lifting heavy items.
Damage: Fragile or valuable items may get damaged due to incorrect packing or handling.
Time-consuming: A DIY move often takes longer, as you might not have the experience or resources of a professional team.
Hidden costs: Truck rentals, packing materials, potential damage costs can add up, making a DIY move less cost-effective than it initially seems.
Why Should You Choose Affordable LLC for Your Short Move?
Affordable Moving Company is not just one of the best short distance moving companies — we're your reliable, local partners. Here's why you should trust us with your move:
Local expertise: As short distance movers in Los Angeles, CA, we know the city inside and out, ensuring a smooth move.
Affordability: We live up to our name, offering top-tier local moving services without breaking the bank.
Reliability: We're timely, efficient, and professional, ensuring your move happens without a hitch.
Customer Service: Our team is friendly, responsive, and dedicated to making your move stress-free.
Remember, when it comes to moving, distance is just a detail. It's the care, professionalism, and commitment that truly matters. And that's exactly what we offer at our company.
How Much Does a Short Distance Move Cost?
As you navigate the details of your upcoming relocation, one question invariably arises: How much will it cost? The cost of short distance movers can differ greatly, influenced by numerous factors such as the volume of items, the specific services you need, and the moving company you select.
While searching for cheap short distance movers, it might be tempting to go for the lowest price. However, at Affordable Moving Company, we believe that value is not merely about cost but also quality. A suspiciously low quote can often hide additional fees or suggest subpar service, leading to more expenses down the line.
The cost of a moving company for short distances usually encompasses labor, transportation, and possibly packing materials. These elements are crucial for a smooth and efficient move. As one of the top moving companies for short distance moves, Affordable Moving Company provides a transparent quote, clearly delineating each of these costs.
Remember, a successful move is more than a service; it's an investment in your peace of mind. By choosing us, you're choosing a stress-free transition to your new home.
A fresh take on short distance moving services