Moving from Los Angeles

to Chicago
Your stress-free move starts with a free quote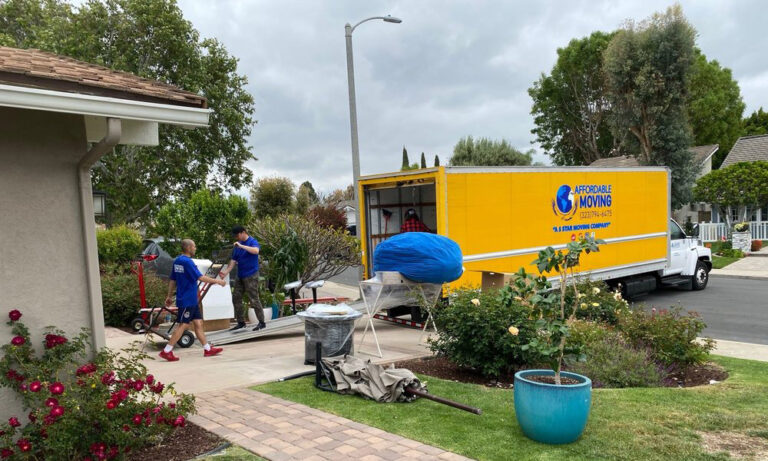 Best Movers from Los Angeles to Chicago
---
If you've ever wondered what it would be like to trade the sunny skies of Los Angeles for the bustling energy of the Windy City, you're in the right place! Affordable Moving Company, the movers Los Angeles to Chicago experts, is here to help you through the process.In this article, we'll provide valuable insights, tips, and facts to help you make the most of your relocation experience.
Benefits of Moving from Los Angeles to Chicago
Moving from LA to Chicago offers many advantages. Here are some key reasons why making the move might be perfect for you:
Cost of living: Overall, living in Chicago is more affordable than Los Angeles. With lower housing costs and a more budget-friendly lifestyle, you can enjoy a higher quality of life without breaking the bank.
Cultural experiences: Chicago boasts a vibrant arts scene, world-class museums, and a rich history. From theater to music, there's always something to explore.
Employment opportunities: As a major metropolitan area, Chicago offers a diverse job market across various industries, including finance, healthcare, and technology.
Public transportation: Chicago's extensive public transportation system makes commuting and exploring the city a breeze, without the need for a car.
Choosing a Moving Company to Move from LA to Chicago
Selecting the right long distance moving services can make all the difference when moving to Chicago from Los Angeles. Here are some essential tips to help you choose the best movers Los Angeles to Chicago, IL:
Research and compare: Look for reputable moving companies with positive reviews and testimonials.
Ask for quotes: Get estimates from multiple companies to compare prices and services.
Verify licensing and insurance: Ensure the moving company is licensed and insured to protect your belongings during the move.
Check for additional services: Some companies offer packing, storage, and other specialized services to make your move as smooth as possible.
How much does it cost to move from Los Angeles to Chicago?
The cost of moving from LA to Chicago, IL can vary depending on several factors, such as the size of your move, the distance traveled, and the services you require. It's essential to obtain quotes from the best movers from Los Angeles to Chicago to get a better understanding of your specific moving expenses.
How to move from LA to Chicago with ease?
Relocating to a new city can be a daunting experience, but with the right planning and preparation, you can ensure a smooth transition. Follow these steps to make your move from LA to Chicago as seamless as possible:
Create a moving checklist: A detailed checklist will help you stay organized and on track throughout the moving process.
Downsize and declutter: Before packing, go through your belongings and decide what to keep, donate, or sell. This will help reduce the size and cost of your move.
Pack early and efficiently: Start packing non-essential items early, and use proper packing materials and techniques to protect your belongings.
Hire a reputable moving company: Choose a trusted moving company to handle your movers Los Angeles to Chicago needs.
Notify important parties: Inform the post office, utility providers, and other essential contacts of your change of address.
Get to know your new city: Research local attractions, neighborhoods, and resources to help you acclimate to your new home in Chicago.
By following these tips and partnering with Affordable Moving Company, you'll be well on your way to a stress-free and successful move. We understand that moving from LA to Chicago can be a significant life change, but our team of experts is here to support you every step of the way.
By thinking about why you want to move, finding a good moving company, knowing how much it will cost, and following our tips for a smooth move, you will be ready to start your new life in the Windy City. At Affordable Moving Company, our goal is to make your relocation as seamless as possible. Contact us today to learn more about our movers Los Angeles to Chicago services and how we can help you with your upcoming move.
A Fresh Take On Moving from Los Angeles to Chicago Services